Enter The Spyderco 2013 Calendar Picture Contest at the Spyderco Forums: Contest ends August 1, 2013 @ 9:00MDT. 12-First Prize C101PBL2 Manix2 Lightweights and a Grand Prize C36TIFP Military Model Fluted Titanium will be awarded.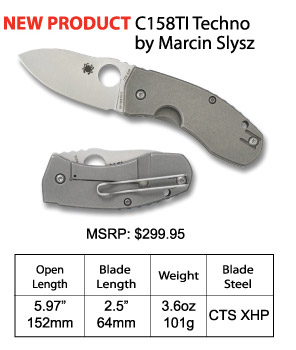 Polish knifemaker Marcin Slysz marks his Techno folder with a progressive European appearance. The Techno falls into Spyderco's "Little Big Knives" category with its small blade paired with a hard-duty locking mechanism, exotic blade steel and vault-like construction found primarily on hard-use, larger knives. Mr. Slysz began making fixed-blades and has since progressed to high-tech folders. His specialty is titanium-handled framelocks with hi-alloy stainless steel blades and his designs have a utilitarian orientation. His motto is "the quality of the product is as important as the design". Spyderco's initial collaboration with Mr. Slysz, the Techno is also the first main-line production Spyderco CLIPIT to use Carpenter's Steel CTS-XHP. Knife steel metallurgists refer to CTS-XHP as having the steel properties and hardness of D2 carbon tool steel but with the added advantage of chromium to classify it as a powdered stainless steel. Ground fully flat, the blade has an oversized Spyderco Round Hole and slide-resistant jimping perched on the spine. The handle is titanium with contrasting blue handle spacers leaving the handle open and exposing the inner workings for ease of cleaning. A Chris Reeve Integral Lock (R.I.L.) incorporates the handle's back scale as the lock. With the handle's back side doubling as both handle and lock, the need for internal liners is dispensed with, and the knife can be manufactured lighter and slimmer while retaining greater strength. A deep pocket wire clip can be positioned for left-hand or right–hand use with the blade tip positioned with the tip upward in the pocket.

A HISTORY OF THE NATIVE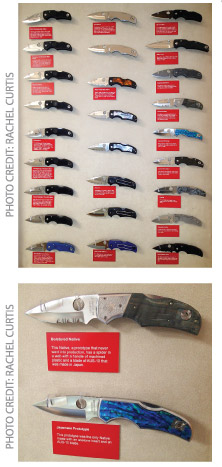 The evolution of a Spyderco knife design is never cut, dried or Darwinian. Some knives demand to be made, some progress in spurts, others start out as one design then flip 180 degrees to become another design altogether. Some knives have been decades in development while others sprint from concept to finished product in just months. Spyderco's Native is an ongoing work in progress that began in 1996 and continues to roll out hybridized versions and improvements with no slowing in sight. This process of forward-marching evolution and refinement is called C.Q.I. - Constant Quality Improvement. The philosophy of C.Q.I. is a method applied to all Spyderco products through the conceptual stage to the manufacturing process, and is an encompassing mindset in all members of the Spyderco Crew.

In 1996 the Native was conceived as a mass produced folder Spyderco would sell to a chain of big-box stores. Designed by Sal Glesser, one of the many considerations was creating a high-quality Spyderco without a large hump in the blade. Large chain store customers weren't familiar with Spyderco and in our experience; the blade hump could be visually off-putting to first time knife buyers. It was important that people purchasing a Spyderco for the first time experience the control, strength, function, ergonomics, size and steel selection that make a Spyderco. All these features were major design questions to be studied and answered in development of the Native for mass production. Innovative and different, the Native was awarded numerous U.S. patents and trademarks, among those is the Bi-Directional Texturing ™ found on many of our lightweight folders and fixed blades.

Spyderco is a small company by knife manufacturing standards. With the help of a larger knife company (now gone) and large cutlery distributor, the first lightweight Native came to market. It was called the 1st Generation BRK Native. After release of the BRK Native production was moved to Spyderco's fledgling manufacturing facility in Golden, Colorado. Here the production of the C41 Lightweight Native began in earnest and continues to today. And yes, Walmart carried it for a number of years.

Native models and variations have been manufactured in two locations, Seki City, Japan and in Golden, Colorado. Variations include: G-10, titanium, FRN (fiberglass reinforced nylon) handles, exotic inlays, different steels and pocket clips. In total there are more than 35 refinements and renditions to date. Most made it to the public consumer, while some never matured beyond the prototype stage.

Located in the Spyderco Factory Outlet retail store is a formal presentation depicting the history and forward progression of the Native. This is just the start….. Our future goal is to establish museum exhibits showcasing unusual Spyderco knives and prototypes that have never publicly been displayed.

Photos by Rachel Curtis




Are you ever curious about the person on the other end of the customer service line? Spyderco's Warranty & Repair Department is overseen by Charylnn. She is the Spyderco crew member you speak with when contacting Spyderco through phone and email, answering your inquiries and processing incoming knives through our shop for sharpening and repair or warranty issues. The vital heart of any company is the person communicating with the end-line customer. The knives that make it back to Spyderco tell their story of use and dependability from every country in the world. We asked her what some of the most frequently asked questions are in W&R.

How should I clean and oil my knife?
Maintaining a clean knife is vital to its function and longevity. Regularly wash your knife (and the pivot area) with liquid dish soap, cautiously opening and closing the blade while rinsing thoroughly with fresh water. Check your locking mechanism regularly to keep it pocket-lint and debris free so that it can operate safely and at its optimal performance.

For oiling, we recommend a synthetic gun-type lubricant. Oil the blade pivot between the handle scales by placing a couple drops inside and opening and closing the knife several times, lubricating the folder's action. We don't recommend a lubricant such as WD40 as it tends to attract dirt and debris. If you use your knife for food preparation we recommend mineral oil as a lubricant rather than synthetic gun oil.

What do I need to do to keep my knife rust free?
Spyderco knives are made with high-carbon stainless steels for optimal cutting performance and require regular maintenance and inspection. Keep your folder dry and oiled. In the W&R shop when rust spots appear we rely on Flitz® to remove surface rust. It adds a protective coating and doesn't damage the surface steel or handle/clip materials. Store your knife in dry environment and if you are in a humid area inspect your knife frequently to keep oxidation at bay.

Sharpening my knife?
Spyderco performs complimentary sharpening on all edge configurations (PlainEdges, SpyderEdges and CombinationEdges). Regardless of edge configuration, if your cutting edge is in good shape and simply dull, we offer free sharpening. We require you cover the cost for return shipping of $5.00 USD - the service itself is complimentary. If your knife's serrations are bent, chipped or worn/rounded we have the ability to re-serrate a blade at the cost of $20.00USD plus shipping. We do not keep an inventory of replacement blades.

What if I need a new clip or clip screws?
The majority of Spyderco screw head sizes are a 6 or 8 Torx. If you find your clip screw(s) becomes loose, we recommend a drop of Loctite 243 (blue) on the screw before re-tighten. Be cautious to not to over tighten screws. Spyderco has a variety of replacement clips available through Spyderco Factory Outlet. Internal repair parts are available only for the Delica C11 and Endura C10 and are sold as a pre-packaged kit.

What can I expect when sending my knife to Spyderco Warranty and Repair?
Always package your knife securely and safely. We recommend shipping in a box rather than padded or cardboard envelopes as knives tend to tear out of an envelope during transit. Please mail your knife to Spyderco using a track-able method, UPS, FedEx, etc. You may wish to insure your package as Spyderco cannot be responsible for knives that do not arrive at our facility. Sending it in with tracking ability allows you to confirm/check your knife has arrived at our facility. Normal turn-around time for re-sharpening and restorations is about 1-1/2 - 3 weeks. We will ship you back your knife via UPS within the continental U.S. Alaska, HI and countries outside the US are shipped USPS.

Spyderco Warranty & Repair
820 Spyderco Way
Golden, Colorado 80403 U.S.A.
800-525-7770 x255 -or- 303-279-8383 x255 Monday- Friday 7:30-4:30 MDT
customerservice@spyderco.com

Look for our ads placed in knife, outdoor and tactical magazines.